" Gregg Popovich and the San Antonio Spurs have won 5 NBA championships between 1999 and 2014. To achieve consistent success, the Spurs have built an organization with a team-first mindset where all of the players, staff and management are focused on the same goals.

How do they do it ? How does head coach Gregg Popovich create strong relationships with his players? How did he get his team to bounce back from a devastating loss in the 2013 NBA Finals to come back one year later and to win it all ? How does he create a team culture where players from around the world are able to work together towards a common goal ?"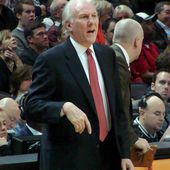 Gregg Popovich est né à East Chicago dans l' Indiana d'un père serbe et d'une mère croate. Il effectue son cursus universitaire à l' United States Air Force Academy, dont il porte les couleurs...
How They Think, How They Prepare, How They Perform